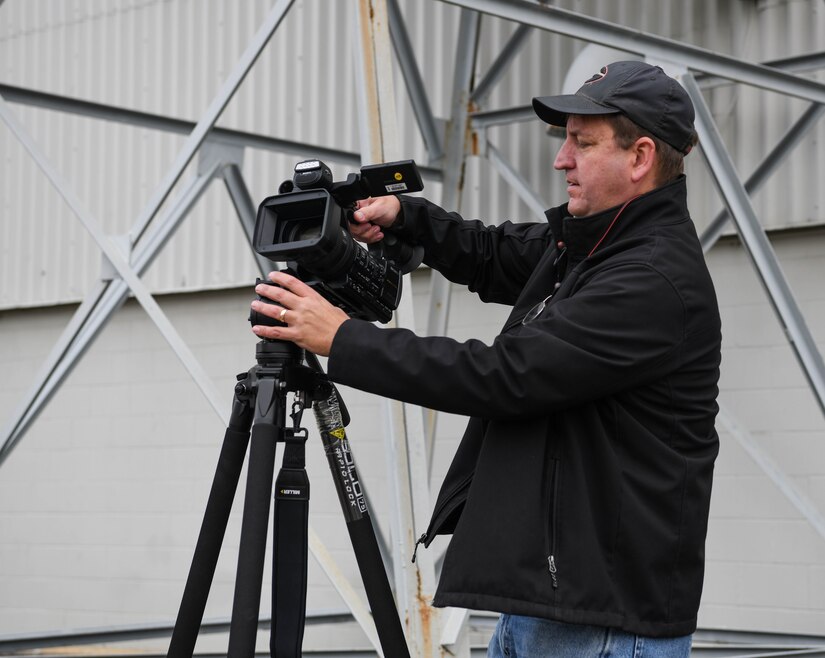 ACEDC videographer writes fantasy fiction when not behind the camera at Arnold AFB> Wright-Patterson AFB> Post view
ARNOLD AIR BASE, Tennessee –
If you see David Wright around Arnold Air Force Base, he's usually carrying videography gear and lights to test cells, filming a special event, or interviewing people for a project he's working on.
Although Wright, who has served as AEDC videographer since January 2019, has worked primarily behind the lens since graduating with a bachelor's degree in radio, television and film from the University of Georgia in 1993, he is a man of many talents.
When not using his video and video editing skills at Arnold, he enjoys spending his free time writing fantasy fiction novels.
Wright published his first book "My Brother's Keeper", which is part of the series called The fate of Galahad, in 2014. His second book in the trilogy, "Marching as to War", was released in 2018. He is currently working on the third and final book, which will be titled "The Armor of God".
"I completed the draft in June 2020 and immediately put it in the hands of my core beta readers because I'm so excited about it," Wright said. "I don't have a specific target date for the release, but it will definitely be in 2021. There is a lot involved in both the review process and the design process.
"The fate of Galahad was a planned trilogy from the start, so "Armor of God" will complete the story. I am extremely happy with the result and anyone who has read the first two will not be disappointed.
Wright mentioned that he has always had a passion for storytelling, regardless of the creative outlet that entails. Once he decided to start writing, of course he chose a topic that he would like to read on his own.
"What inspired me was wanting to demonstrate that there was room for Christian faith in fantasy storytelling," he said. "There is a percentage of people who find it difficult to reconcile their faith with stories that include magic. I was directly inspired by the passage from the armor of God in Ephesians 6 and the phrase "the worlds were framed by the word of God" in Hebrews 11: 3 (KJV).
"I was intrigued by the use of the plural 'worlds', and with the desire to somehow defend the fantasy genre, my thought process began. It was around 1997. I then spent 10 years really studying the structure of the story, developing ideas for the novel, familiarizing myself with some published news and making contacts in the small press world. . I finally started to write my first The fate of Galahad project towards the end of 2007.
While the context of the stories is somewhat based on religious virtues, Wright mentioned that you don't necessarily have to be a believer to benefit from them.
"The fate of Galahad is an epic fantasy of swords and witchcraft, "he said. "It's an action packed adventure that just happens to be informed by my personal faith. But this is not a contrite little Sunday school lesson. It is a radical epic which, at the end of the third book, is told on the largest scale. Ancient prophecies, magic swords, wizards, knights, elves and dragons. This is not a childish price.
"The story I wanted to read didn't exist, so I wrote it. And while he's probably rated PG, there has been no attempt to write to a certain age group. It's just a great, fun story for any fan of the genre. The themes revolve around duty, honor, forgiveness and redemption.
With his full-time job at Arnold and having a family, Wright said the biggest challenge he faced while writing was just finding the time to do it.
"Time management is definitely the number one challenge for part-time writers," he said. "I am only able to write by staying up late at night than anyone else in my family. I wrote the first book at a time in my career when I was working for a government department as a producer and director of documentaries. The work has taken me all over the world, including places like Africa and the Vatican. It was actually around this time that I started to write a lot, when I had so much free time to fill in airports and hotels.
"By the time I was on the second book, I had reverted to a more mundane 9-to-5 existence and my production had dropped dramatically. The third book surprised me by how quickly I was able to write it. As a concluding volume, I guess the finish line was so clear in my mind that I was able to follow it, and it just started to sink. "
Wright also noted that what started out as a fascination with the art of storytelling has now grown into what most would consider a successful hobby.
"I've always been more interested in the choices a screenwriter or director would make, more than being immersed in a given story," he said. "I studied the structure of history and classical archetypes. And then, after a few years of casually working on story and character ideas with no big end goals in mind, I connected with a community of freelance writers and small press book publishers and received lots of encouragement. Writing is a great hobby that costs nothing and takes up extra space in your home, just a fun way to pass your time, just like any hobby should.
For those who also like to get into writing or would like to get started, Wright offers some tips based on his experiences.
"Read," he said. Read a lot. Study how your favorite authors write dialogue or reveal a character. Write. Don't put any pressure on yourself to get published, just write for fun and learn from your mistakes. Study the structure of the story. the turning points of a three-act structure? When watching a movie, try to identify the beginning of the third act.
"I highly recommend Blake Snyder's 'Save the Cat' when it comes to learning the genre and the rhythms of the story. I have also found the short stories to be a great study. It is easier to discern the structure when all the key elements need to be compressed into a smaller number of words.
"Observe life. There are too many interesting people who fill our daily existence to have an excuse for boring characters. Savor the language. Handle the written word like a brush. Or a scalpel. Or a Mach 1 X-35. Have fun with it.
If you would like to learn more about Wright's novels, visit: http://www.whiterocketbooks.com/galengriffon/