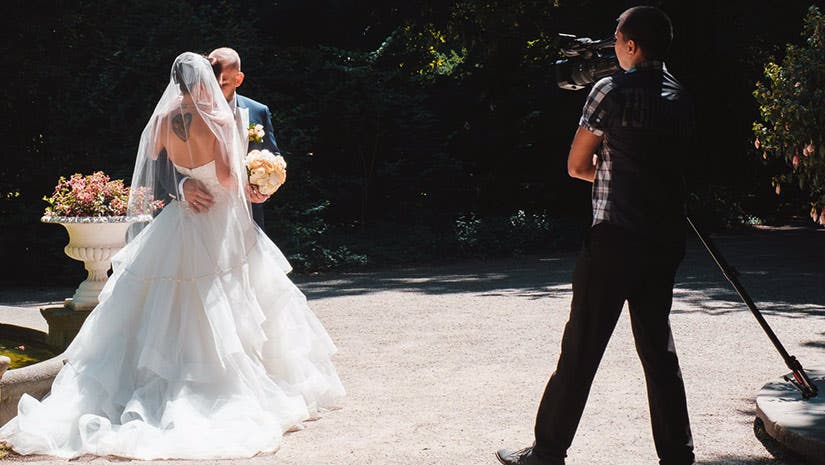 How to film a wedding as a solo videographer
For some videographers, filming a wedding solo is a nightmare. For others, it is a sign of pride. While the staffing is entirely up to each filmmaker, I tend to enjoy the challenge of "running and shooting" throughout the wedding day with no one to rely on but myself.
Do I have pain the next day? Absoutely. Am I literally out of breath running from corner to corner during the ceremony? You bet. But at the same time, I have quality control over each sequence and I'm drawn to the pleasure of knowing that it's all about me. Having said that, having an intern or an assistant can sometimes be very nice too.
If you are planning on filming a wedding solo, rest assured it can be done. In this article, I'm going to highlight my tips, tricks, and gear for getting all the footage you need as a one- (wo) man band.
1. Use multiple cameras
If you are filming solo you will need at least dual cameras to get the multiple angles, videographers typically rely on their second shooters to capture. I alternate between the Sony A7 III and the Sony A7S II depending on the setting. (For example, the Sony A7 III has a great touchscreen for focusing while set up, while the Sony A7S II is unmatched when it comes to low-light situations like sending sparks.) I've tried a wedding as that solo shooter with only one camera and trust me i'll never do that again.
2. Invest in a good tripod
I spend most of the wedding day with a camera on me (on a monopod) and my second camera with a wide angle on a tripod. This second camera allows me to capture everything from start to finish during key moments (first glance, ceremony, speeches and dances), but it is essential that I place it on a reliable and stable tripod. Otherwise my expensive camera could be overturned in an instant, a risk I'm not prepared to take.
3. Test your kit for speed before the big day
Efficiency and speed are your best friends when it comes to solo wedding videography. If this is the first (or even the second or third!) Time you've filmed a wedding, familiarize yourself with each piece of equipment so you don't waste time on location. I had malfunctioning gimbals and broken microphones, but my familiarity with the equipment before the wedding assured me that no second was wasted and that I knew exactly what to do.
My second tip to save time? Peak Design Camera Strap on Leash. This affordable and functional gadget allows you to quickly attach and reattach the camera strap, giving you the freedom to carry your second camera hands-free when needed, then quickly unhook the strap for placement. on a tripod. I have this strap on both of my cameras because it is this good – and now an essential addition to my kit.
4. Coordinate with the photo team
As a wedding videographer, the photographer is not your competitor. You are a team, whether you are under the same umbrella or not (after all, you have the same goal: a happy couple!). And, if you're shooting solo, the photographer is even more important because they can help (or hurt you), depending on how early in the relationship.
I reach out to the pre-wedding photographers to introduce myself, and when I'm shooting solo, to give them a warning that I'll direct and shoot a bit (but I'll be happy to work alongside them for a day). I've found that they value my early honesty and are ready to help me more on D-Day – something a solo wedding videographer always needs.
5. Get to the site early
If you are filming a wedding solo you had better believe your time will be ticked off so you might want to get to the venue 30 minutes or an hour earlier to collect yourself and take some establishment shots without the pressure. major moments that occur one. after another.
6. Make the most of your free time
Or, if you don't want to arrive early, use every downtime to your advantage. If you know you're not going to use specific frames for photoshoots, take your flower setting photos or a cloud timelapse. If you only need to film the first five or 10 minutes of the aperitif, spend the rest eating and restocking. You will need it to survive the rest of the evening!
7. Invest in good luggage
I have a background in travel journalism and filmmaking, so I'm used to running and shooting on the go. This experience was invaluable on the second wedding shoot, as I learned that my backpack and my "carry on" have to be highly functional. For example, my first tripod bag didn't have wheels and I could barely feel my shoulders after a wedding. I quickly invested in a trolley bag and it made a huge difference. Likewise, I have found a versatile backpack that I love – the Backpack Vanguard Havana – and he accompanies me every day of the shoot.
As you can imagine, filming a wedding as a solo shooter is a pretty big undertaking. You have to live in "go mode", with your brain focused on multiple cameras (and the next key moment) every second of the day. I love the thrill and the euphoria of filming alone, but at the same time, it's really tiring. If you'd rather go from solo shooting to something a little less chaotic, you can always make hiring a second shooter an important goal and a possible milestone for your business. Otherwise, you can keep the hustle and bustle of the wedding day alive the way I love to!
Featured Image by Leo Foureaux on Unsplash.