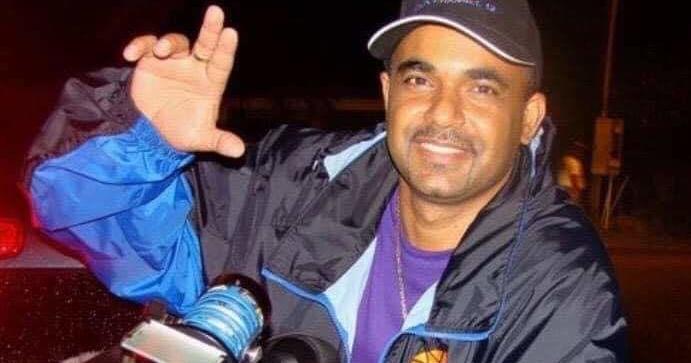 Videographer WTJX Gustave is fondly remembered | News
ST. CROIX — Francis Gustave Jr. was not an on-air personality, nor the face of the territory's television programs and newscasts.
The WTJX-Channel 12 production engineer has spent his entire career in television production working behind the cameras as a videographer and in studio control rooms. Besides Gustave's name appearing in the show's credits, the type of work he has done often goes unnoticed by the average viewer.
"You would never know everything he did because he was never boastful," said his younger sister, Melissa Gustave. "He touched a lot of lives and he was so humble no matter what he did."
Gustave, originally from Sainte-Croix, died suddenly on January 24. He was found unconscious at his home in Estate Calquohoun. He was 49 years old.
As news of Gustave's passing spread through the community, his friends, colleagues and government officials expressed their shock and offered their condolences to his family.
Many have described his calm demeanor and professionalism, even in the high-pressure situations that come with live television. Others commented on his immense talent in production and the pride he took in every task – whether it was important to him or someone he loved, or if it was just part of his job.
"Francis was one of the most talented producers I've ever worked with," said Tanya Marie Singh, general manager of WTJX-Channel 12 and VI Public Broadcasting System, where Gustave worked for nine years. first as a production technician later as a television production engineer. "Francis was a very humble soul, soft-spoken, but he knew how to defend himself."
Singh said the news of Gustave's passing came as a shock to her and the WTJX staff, leading to the decision to cancel the station's usual live broadcast and the address's post-speech commentary on the state of the territory later in the evening.
"The loss had a very significant impact on the personnel of the system," Singh said. "We are like a close-knit family, and I couldn't expect my staff to succeed with this heavy burden."
Singh said Gustave played a significant role in countless productions at WTJX, including broadcasting the Crucian Christmas Festival and St. Thomas Carnival parades, dozens of specials and newscasts, documenting the visit of the Stanley Virgin Islands' Quelbe group and the Ten Sleepless Knights to Copenhagen, Denmark, in 2008 and the group's traditional Foreday morning serenades during the Holy Cross Festival season.
Singh said his heart goes out to the Gustave family and his team at WTJX shared their grief.
"Not getting the chance to say goodbye or let them know how many good feelings you have for them…it's a loss," Singh said. "His skill level is not going to be easily replaced at the station. It is a terrible loss. »
For Gustave's family, he was their beloved son, brother, father and uncle who will be sadly missed.
"He was always devoted to the family, to our parents in particular," said his sister, Irma Gustave Abraham. "He was very loving, compassionate and always did something to make you laugh."
Melissa Gustave said she and her brother were inseparable and were always mistaken for a couple or twins, despite the nine-year age difference.
"We did everything together, he was my travel buddy," she said. "He often joked that he couldn't have a girlfriend because I was always around him."
Growing up at Estate Calquohoun in St. Croix, Gustave attended Charles H. Emanuel Elementary School, John H. Woodson High School, and St. Croix Central High School.
His mother, Francisca Gustave, said as a child: "Francis loved drawing and even thought of becoming an architect." She said he was very artistic, creative and liked to take things apart and put them back together. He often worked alongside his dad building and building things around the house, and she remembers a model house he built in middle school that was unfortunately destroyed in Hurricane Hugo. At some point, she says, his interests changed and after trying different jobs, he turned to television production.
At 19, he started working with WSVI-TV Channel 8 as a news production technician/editor and later became production manager and executive producer.
He worked for just under two years with the Virgin Islands Legislative Assembly as a media specialist before returning to WSVI-TV before finding his home at WTJX.
Gustave has been named Employee of the Year twice at WSVI-TV and twice at WTJX.
6th Legislature Deputy Director of Media Relations Eustace Browne has worked with Gustave over the years and said being named Employee of the Year so many times is a testament to the level of respect he has had. imposed on his colleagues.
Those who have worked with him have also commented on his optimism and calming influence and source of encouragement and positivity, even when facing his own challenges.
In 2012, Gustave was diagnosed with non-Hodgkin's lymphoma, a type of cancer that starts in the lymphatic system. He spent a year in Florida receiving treatment before returning to St. Croix after going into remission.
His sister, Melissa Gustave, said he had changed after his battle with cancer.
"He was eating healthier and paying more attention to his body," Melissa Gustave said. "He had been cancer-free for seven years."
He would become a constant presence among cancer survivors at the annual Holy Cross Relay for Life.
Francis Gustave was also known as the creator and executive producer of the weekly entertainment show, Host voice, with Darren "Bogle" Stevens. The loss is also felt in the Caribbean music industry, Melissa Gustave said, as he often traveled to interview Caribbean artists and document music festivals in St. Kitts, the British Virgin Islands and on the mainland.
Francis Gustave is survived by his parents, Francis L. Gustave Sr. and Francisca Gustave; daughter, Tay'Maya Gustave; sisters, Irma Gustave Abraham and Melissa Gustave; and many other relatives.
Funeral arrangements are pending.